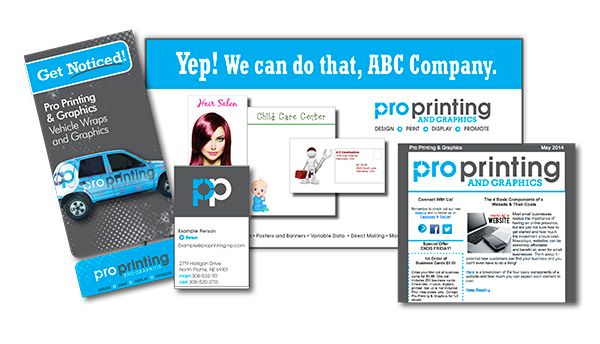 With all of the new businesses popping up in the area, we were inspired to put together a business materials checklist for your reference! Small business owners have a lot to think about on a daily basis, but branding your business should be at the forefront from the get-go.
Here is a short list of items you need right away for your new business:
Logo: A logo gives your business credibility which is important when starting out. In order for a client or customer to purchase your product or services they will need to trust your company. Build credibility with a professional logo that says "I am here to stay."
Business cards: A simple, well-designed business card instantly gives your business professional appeal. There is still something to be said about handing someone a printed, high quality business card, instead of just typing in a new contact to your smart phone.
Brochures: Brochures and booklets may seem outdated, but they're actually an excellent marketing tool. Don't try to cram a ton of information into 3 panels, though - start with a piece that markets your core products and services, and then you can build from there.
Letterhead/Stationery: When you're working with clients or customers, nothing says professionalism like company letterhead. You can even use it to write handwritten notes that are personal, and appreciated.
Postcards: Direct-mail campaigns place your brand in the best place possible — right in your customers' hands. Direct mail is an excellent way to get the word out about your new business, especially if you offer an incentive for the customer to visit your store!
There are tons of materials out there that you can use to promote your business. Just make sure that you keep everything consistent with colors, fonts, and wording so that your potential customers can easily identify your business!
Need help with any or all of the above? Call us today to set up a meeting! 308-532-1111